Collier's Quick Hits | Aaron Jodka
The commercial real estate investment sales sector was up from January, but continues to see major headwinds with rising rates and an uncertain economic future. Office remains the weakest sector while retail led all asset classes, with more than $9.1 billion in volume in February. The hesitancy of both buyers and sellers translated to a 53% drop in overall deal volume year-over-year. No doubt the recent volatility in the banking industry has had significant effects on the capital markets, further exacerbating the pain seen in the commercial real estate sector.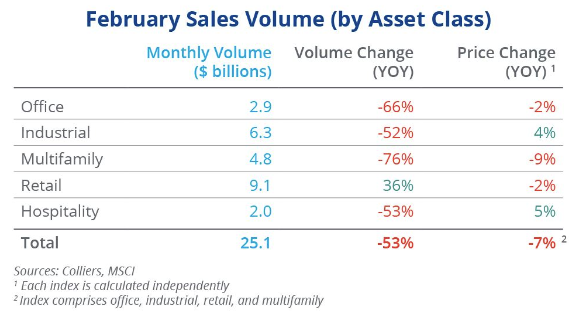 The Numbers By Asset Class
Office
Office volume continues to struggle. CBD activity failed to top the $1 billion mark for the second month in a row and the first time since 2010. MSCI notes pricing is down 2.2% over the past year, though recent cap rate movement would suggest a far more rapid price adjustment. CBD cap rates are up 70 basis points over the past year. In addition, some recent high-profile loan defaults suggest future recapitalizations will follow in the months ahead.
The largest deal of the month was Hyundai Motor Group's acquisition of 13-17 Laight Street in Manhattan's Tribeca neighborhood. Hyundai will use the building for new office and showroom space. It paid $273.5 million for the 108,000-square-foot property ($2,532 per square foot).
Industrial
Industrial volume increased 63% from January and returned to volume reminiscent of 2015-2018 monthly figures. The STORE Capital REIT deal drove some of this past month's activity, propping up those numbers. Pricing is up on a year-over-year basis, but month-to-month trends indicate that it is beginning to adjust. MSCI reports a 4.4% annual drop based on January to February pricing.
The largest non-privatization deal of the month was CBRE Investment Management and GPIF's acquisition of 300 Westmont Drive in Los Angeles for $1.1 billion. The 1.8 million-square-foot, four-property deal traded at $604 per square foot.
Multifamily
Multifamily sales volume is slowing quickly. In February, $4.8 billion traded, the lowest monthly total since February 2012. Multifamily fell to the third most heavily traded asset class in the month for the first time since January 2015. It is uncommon for multifamily to rank outside of the top two in any given month. MSCI's repeat sale index shows an 8.7% annual price decline, the sharpest of any asset class.
The largest transaction of the month was Blackstone's acquisition of the Ellington Midtown from Goldman Sachs in Atlanta for $133 million. The 473 units traded at $281,200 per unit.
Retail
Retail was the most heavily traded asset class in February, with $9.1 billion of activity. The take-private deal of STORES Capital REIT largely drove this. Without it, volume would have come in at $2.0 billion and fallen to a similar extent as other asset classes. MSCI is reporting pricing is down 2.2% over the past year, but annualizing monthly price changes would suggest an 11.3% price decline.
The largest deal outside the STORES Capital REIT transaction was Kohan Retail Investment Group's acquisition of Town Center at Cobb in Kennesaw, GA, for $71 million. Rialto Capital Management sold this asset after the property was foreclosed in 2021.
Hospitality
Hospitality data shows a mixed bag of results. Sales volume was down 53% compared to last year but up month-over-month. MSCI reports the strongest price appreciation of any asset class over the past year at 5.4%. In addition, unlike other asset classes showing price declines when annualizing monthly statistics, hospitality shows a 2.1% gain. Overall, $2.0 billion traded in the month.
The largest asset trade in February was the Curio Diplomat Resort and Spa in Hollywood, FL. The 998-room property sold for $835 million at a reported 7.0% cap rate. This sale continues the trend of high-end properties trading at strong valuations with attractive cap rates.