The U.S. created a robust 263,000 new jobs in November, a historically strong pace of hiring that's good for workers, but that also threatens to prolong a bout of high U.S. inflation.

The continued rapid gains in hiring have become a big source of angst at the Federal Reserve. Senior central bank officials worry that wage growth stemming from a tight labor market is adding upward pressure to already high U.S. inflation.

The Fed is expected to keep raising interest rates — and pushing the economy closer to recession — until hiring slows, labor shortages ease and wage growth drops off.

The unemployment rate was unchanged at 3.7%, remaining close to a half-century low.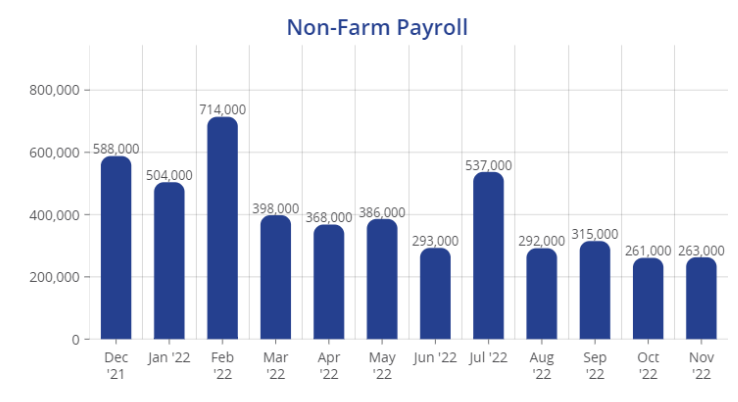 ---
U.S. job openings fall to 10.3 million — but labor market still too strong for the Fed
Job openings in the U.S. fell to 10.3 million from 10.7 million in September, another sign the labor market is cooling off as the economy softens. But it doesn't appear to be cooling off as quickly as the Federal Reserve would like.
The number of job openings is a way to evaluate the strength of the labor market and the broader economy. Job postings have dropped from a record 11.9 million in the spring but are still quite high.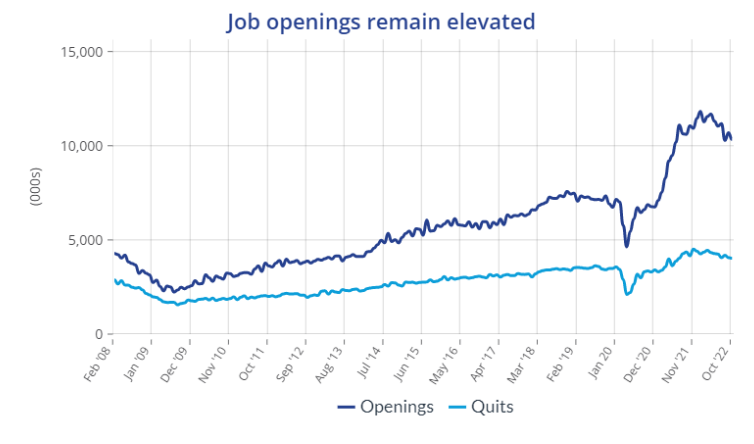 Yet the Federal Reserve wants the demand for labor to ebb even faster to reduce the upward pressure on wages contributing to high inflation. There are 1.7 job openings for each unemployed worker, well above pre-pandemic levels of 1.2.
The number of job quitters fell slightly to four million, but it's still unusually high. Quits have topped four million for 16 months in a row.