First Half Review 2022
The single-tenant and net lease (STNL) space posted a strong performance in the first half of 2022, hitting an all-time high of $40.1 billion in investment sales. This number is 12% above 2021's first-half figures, which marked the previous record. However, the pace of sales is easing. Volume in Q2 fell 25% from Q1 and 17% compared to last year. In addition, deal count was down 42% in Q2 compared to 2021. Rising interest rates have made transactions more challenging to complete, particularly for the private owner reliant on debt.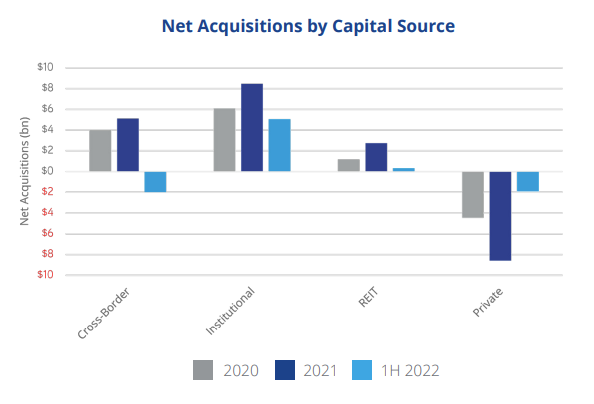 Predictable cash flow has been critical in the STNL space. While that is still the case, modest rent increases built into lease structures are less appealing to today's investors, thanks to stubborn inflation. Likewise, the cost of debt has increased, so non-cash buyers are asking for price discounts that some owners are unwilling to accept. This dynamic has caused the market to show signs of peaking, with a four-quarter moving volume of $108 billion, down slightly from Q1's record pace of $111 billion.
While long-term leased assets are not as attractive as they were just a few quarters ago, this is likely a blip and not a sustainable market situation. Forecasts for inflation predict that today's levels will ease in the quarters ahead, allowing the market to return to normal, albeit with higher interest rates than seen in 2021. Today, investors are focused on their ability to get to the lease roll quickly, particularly on the industrial side, where rent growth has been strong. Capital from 1031 exchange buyers remains a driving forces, and private equity has raised billions of dollars to deploy into the STNL space.
Credit: Colliers Research and Capital Markets