Volume 144: Week ending April 8, 2023

Job openings fall to 21-month low of 9.9 million in sign of labor-market cooling
In February, job openings in the U.S. fell to a 21-month low of 9.9 million, indicating a softer economy is easing the historically tight labor market. Although many companies are still hiring, job postings have declined from last spring's record high.
Surprisingly, the number of people quitting jobs increased slightly to 4 million.
The Federal Reserve hopes to see job openings and hiring slow even further to ease inflation.
Job openings fell the most in hotels, restaurants, retailers, transportation companies, and professional businesses. However, listings rose slightly in construction companies and financial firms.
The number of job openings per unemployed worker dropped to 1.7, the lowest since October 2021, but still above the pre-pandemic level of 1.2.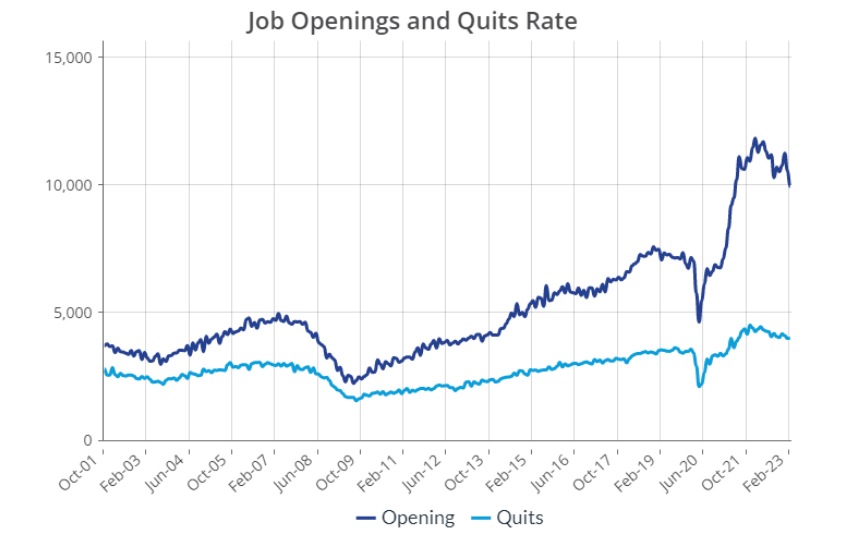 U.S. manufacturing activity near three-year low
U.S. manufacturing activity hit a 3-year low in March, with new orders plummeting and tighter credit conditions likely to further dampen the sector. The Institute for Supply Management's manufacturing PMI fell 1.4 points to 46.3, the weakest reading since May 2020, except for during the COVID-19 pandemic. Only two of the six largest manufacturing industries saw growth in March – petroleum and coal products, and machinery.
On the other hand, twelve industries, including furniture and related products, nonmetallic mineral products, textile mills, transportation equipment, computer and electronic products, as well as electrical equipment, appliances, and components reported contraction.
Source: Capital Economics
ISM services index shows slower growth in March
The ISM Services Index, a key indicator of the health of the U.S. services sector, dropped by 3.9 percentage points to 51.2 in March, signaling a slower pace of growth towards the end of the first quarter of the year.
The report further revealed that while business activity continued to expand, the rate of expansion was slower compared to the previous month. Additionally, there was a sharp decline in the new orders index, indicating that future activity is likely to slow down as well.
However, there was some relief in terms of inflation pressures, as the price index fell further from its peak in early 2022, indicating a slight easing in inflationary pressures.
Source: Oxford Economics