Economic Market Pulse – Volume 117
The Federal Reserve continued its aggressive fight against high inflation, agreeing to the third straight super-sized interest rate hike and saying that rates will go sharply higher before the end of the year.

Officials said they would raise their benchmark federal funds by 0.75 percentage points to a range of 3% to 3.25% and penciled in another 125 basis points in rate hikes by year-end.  That would bring the benchmark rate to a midpoint of 4.4% by the end of the year, up from the prior estimate in June of 3.8%.

The latest Fed forecast shows the rate rising to 4.4% at the end of this year — higher than most Wall Street forecasts.  It would then peak at 4.6% in 2023 before gradually declining.

Fed officials are united in the belief that the higher cost of money will restore the rate of inflation to pre-pandemic levels of 2% or less by 2025, based on its preferred Personal Consumption Expenditures (PCE) price index.

The PCE price index has risen 6.3% in the 12 months ended in August, the highest rate since 1982. However, the Fed predicts it will slow from an estimated 5.4% at the end of 2022 to 2.8% by 2023, 2.3% by 2024 and 2% by 2025.

In updated forecasts, the Fed predicts the economy will grow at a meager 0.2% annual pace this year and a lackluster 1.2% next year — well below the outsized 5.7% gain in 2021.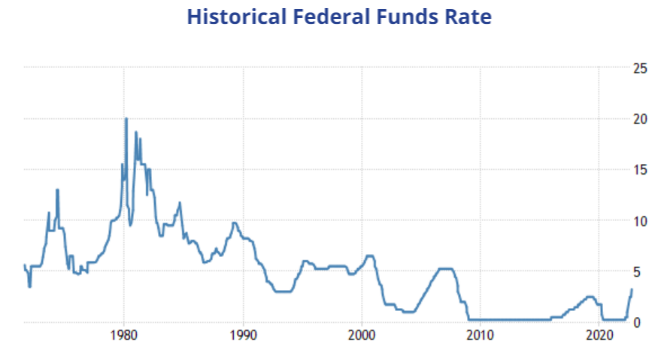 ---
U.S. consumer sentiment edges up in September
U.S. consumer sentiment increased slightly in early September, reachin`g its highest level in five months, as the continued decline in gasoline prices offset concerns over inflation and an economic slowdown. 

The University of Michigan's preliminary consumer sentiment index stood at 59.5, up from 58.2 in August to its highest since April. 

Americans' inflation expectations fell in September for a third consecutive month.  Inflation expectations for the next five years, a closely watched indicator for Federal Reserve officials, fell to 2.8% from 2.9% the prior month, reaching its lowest level since July 2021.
Source: GlobalData
U.S. homebuilder sentiment declines for ninth straight month
The National Association of Home Builders' monthly confidence index fell 3 points to 46 in September. Outside of the pandemic, the September reading is the lowest level since May 2014 and the ninth month in a row that the index has fallen. A year ago, the index stood at 76.

All three gauges that underpin the overall builder-confidence index fell. The gauge that marks current sales conditions fell by 3 points. The component that measures the traffic of prospective buyers fell by 1 point.
The gauge that assesses sales expectations for the next six months fell by 1 point.
Source: MarketWatch