Colliers Quick Hits | Aaron Jodka, Director of Research, U.S. Capital Markets
At Colliers, we understand the importance of interconnected data, macroeconomic trends, and anecdotes in real estate decisions. With that in mind, here are 10 numbers that have recently caught our attention.
The Cost of Overseas Freight has Fallen Dramatically
The Freightos Baltic Index of global container freight dropped from a peak of $11,109 in September 2021 to $2,8786 in late November. Prices are still above pre-pandemic rates, but are dropping significantly. China to West shipping costs have fallen 90% from their peak during the pandemic.
National Home Prices Continue to Fall
The S&P CoreLogic Case Shiller national home price index fell in September for the third consecutive month.
Existing Home Sales Slow
The National Association of Realtors reported that October was the ninth consecutive month that existing home sales slowed.
3D Printed Houses are Here
Lennar and ICON are partnering on the first large-scale 3D-printed housing development in Austin, Texas. In Total, the companies will print 100 three-and-four bedroom homes.
Consumers Return Goods in Record Numbers
The National Retail Federation expects consumers to return 18% of purchases this holiday season. Many retailers are changing their return policies due to higher costs.
Personal Savings Rate Drops
The Federal Reserve Bank of St. Louis reported that the personal savings rate was $626 billion in Q3. This number fell from $4.85 trillion in Q2 2020 when stimulus checks supported households.
Near Term Forward Spread Inverts
Forbes reported the near-term forward spread inverted in November. This statistic has proven a strong recession indicator.
Most Expect Stagflationary Environment
A Bank of America survey of fund managers showed 92% expect a stagflation environment, which is above-trend inflation with low economic growth and high unemployment. Stagflation is driven by a number of factors, such as high energy prices, bad economic policies, and a slow in productivity. The last time the United States experienced stagflation was in the late 1970's, where inflation stayed above 11% after a global recession in 1975.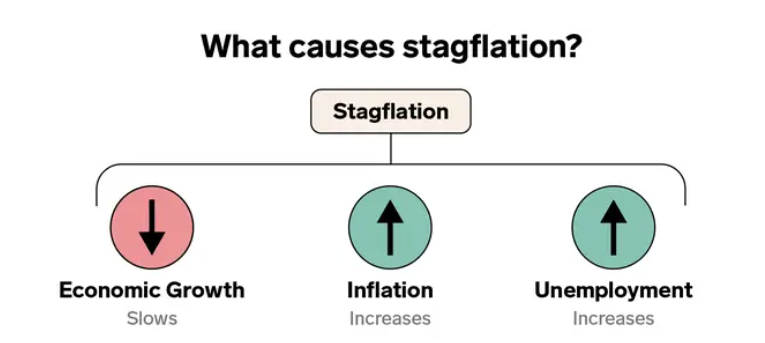 The World Cup Shatters Spending Records
Qatar has spent over $300 billion preparing for the world cup over a dozen years, including infrastructure upgrades, hotels, and state-of-the-art air conditioned stadiums.